Saturday, February 16, 2019 from 9:30 AM to 1:30 PM
Event Information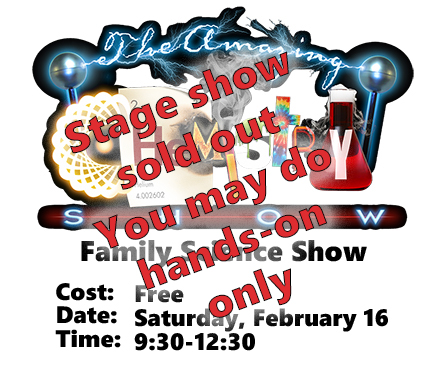 A free family science indoor show complete with explosions and crazy experiments.
Includes two hours of hands-on experiments before and after the show.
Doors open ar 9:30. First show starts at 10:00 (Reservation and free ticket required). The first show sold out at 11:00am Jan 21.
The second show starts at 11:15. (reservation and free ticket required) You may do the hands-on before and after the second show. This show also sold out.
Due to the overwhelming reponse we have negotiated a third show starting at 12:30. This is the final show and it is now sold out. No more tickets are available. These attendees must complete the hands-on experience prior to their show. The hands-on part closes at 12:30 for tear down and shipping.
Even though both shows are full, families may attend the 75 station hands-on experience without a ticket they are just not be able to participate in the stage show.
Those with tickets must bring their registration information (or e-ticket info) to the ticket window to pick up your actual show tickets.
A truly family fun event.
Event Location
First Christian Church • 6114 Fishburg Rd. • Huber Heights, OH 45424 • US
Contact Information
Contact: Shannon Teague
Phone: 937-236-8029
E-mail: