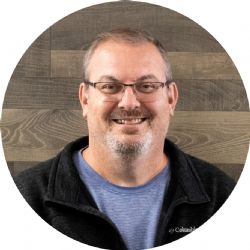 Co-Ordinator Worship Ministry
Keith Colbert and his wife, Stephanie have been at FCC since 2000, when they moved here from Pennsylvania.They have 3 young adult children – Brian, Matthew and Maria. Once, while driving the kids to school years ago, the topic of "quality time" came up. It was decided to never use the phrase, "quantity time" because any time spent
together is "quality time." Even if it's only the few minutes from the house to school.

Keith is the Preschool Director for First Steps Preschool and serves as FCC's Director of Worship Ministry. He is a LifeGroup Leader, drummer on the worship team and has served as an elder for 6 years.

Keith says, "Asking God to 'use me' can be a daunting prayer. What if He calls me to something too big or something I do not want to do? To quote the popular song by Zach Williams, "Fear, he is a liar." It has been those times in my life when I have submitted to God and asked Him to 'use me' that I have found the most joy, peace and fulfillment. As an elder, I find it a privilege to serve our community and to be with men and women of faith who are committed to God's purposes
Keith also serves as an Elder and his term expires December 31, 2023.