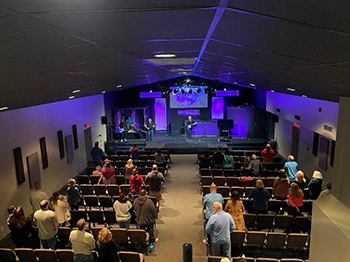 FCC Worship Team - Design
Do you have an eye for design?  Are you the artistic type that enjoys   hands-on projects?  FCC is looking for a team of people interested in keeping the platform in the Worship Center engaging! 
Ministry Name: FCC Design
Role: Worship Center Design Team
Skills Required:
Creativity and craftiness are the key! (Familiarity with power tools or knowing someone who is may also be helpful.) This team of people works together to design, build and decorate the Worship Center. The goal is to provide a new "look" 3 times per year and for Christmas.  We're not looking for wholesale changes or to repaint the walls, but rather a way to accent the Worship Center and keep it inviting.
Time Commitment: 
The time commitment will vary depending on the design.  The team would work on their own schedule in order to prepare new designs for Sunday services.
Set up would be on your own schedule but would need to be accomplished between Sundays so the Worship Center is ready for services.
The First Step:
Contact Keith at kcolbert@fcchh.org to learn more about this opportunity.