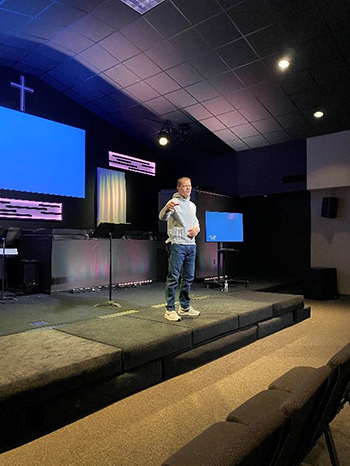 FCC Worship Team - Hosts
Do you have an outgoing, energetic personality? Then you might enjoy serving as a host during our Sunday Services.  Our hosts help make our guests feel welcomed and informed during our Sunday services.  Usually it's Jon or Rob handling these duties.  BUT, we're always looking for new faces!
Ministry Name: FCC Hosts
Role: Sunday Service Host
Skills Required:
Having a natural and relaxed posture when speaking in front of a group of people with a microphone is essential.  After the first song or two, the Sunday Hosts will welcome our guests, share announcements, and pray for tithes and offerings.  We can coach you through all of these! You just need to bring the bubbly attitude! It could be even more fun if you find a friend to do this with you.  We will email you the list of announcements and the worship order the Monday before church service.
Time Commitment: 
Sunday:

One Sunday per month!  Plan to arrive at FCC by 9:00AM for a sound check and review of the day's announcements. Services are at 9:30AM and 11:00AM.

Thursday Practice:

None. We'll email you the announcements ahead of time so you have time to prepare

Other Events:
Outside Time:

A minimal amount of time to become familiar with the week's announcements.
The First Step:
Contact Keith at kcolbert@fcchh.org to learn more about this opportunity.  You see it happen every Sunday after the first song!