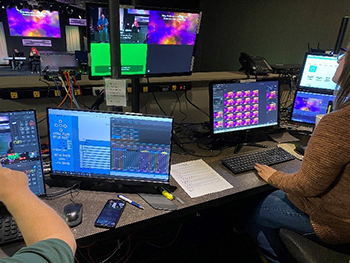 FCC Worship Team - Lyrics
Managing our service presentation is as simple as following along with the service and pressing a space bar to advance the slides! Our Lyrics Team is responsible for controlling the projection of lyrics and message screens on Sunday.  (Just think of it as running Powerpoint during church.)
Ministry Name: FCC Lyrics
Role: Media Shout Technician
Skills Required:
We use a presentation program called Media Shout during services on Sundays. We provide a service order and a script for the message for you to follow along. And, it really is as simple as pressing the spacebar.  You may need to click the mouse on occasion too.
Time Commitment: 
Sunday:

One Sunday per month.  Plan to arrive at FCC by 9:00AM to become familiar with the worship order and message. Be ready to begin the preservice presentation at 9:15AM. Services are at 9:30AM and 11:00AM.

Thursday Practice:

You are welcome to attend practice the Thursday before your scheduled Sunday to familiarize yourself with songs, but it's not a requirement. Practice is from 7PM to 8:30PM.

Other Times:

You may be asked to participate in other events such as a worship night or to cover an open position.  This is done on a voluntary basis.

Outside Time:

None. It does help to listen to the songs so you are familiar with them prior to service.
The First Step:
Contact Keith at kcolbert@fcchh.org and plan to attend a Thursday night practice. During practice, we'll teach you the "how to's" of using Media Shout and the secret to timing the pressing of the space bar!