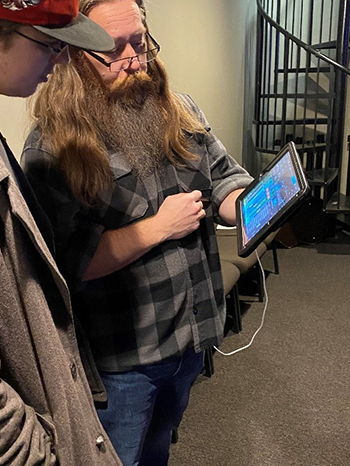 FCC Worship Team - Sound
All it takes is a joy for music and 1 finger! Did you know we have a need for 2 sound people every week?! One for in-person sound and one for livestream sound.
Ministry Name: FCC Sound
Role: Sound Technician
Skills Required: 
You may have heard the phrase "having an ear for music."  What does this mean for someone serving on our Sound Crew?  At FCC, mixing sound is about balance, tone, and volume. If you enjoy songs as a whole, but also appreciate picking out the fine details of a particular guitar riff or drum fill, you probably have an ear for music. We use an iPad to control the mix of our sound for both in-person and livestreaming our services. We also use a decibel meter to ensure we have a consistent level of volume for in-person services.
Time Commitment: 
Sunday:

One Sunday per month!  We arrive at FCC at 8:15AM to run through the set before services at 9:30AM and 11:00AM.

Thursday Practice:

If you are scheduled for sound on a given Sunday, we will have practice on the Thursday before from 7PM to 8:30PM.

Other Events:

You may be asked to participate in other events such as a worship night or to cover an open position.  This is done on a voluntary basis.

Outside Time:

None, except for your own desire to learn and improve your craft.
The First Step:
Contact Keith at kcolbert@fcchh.org to schedule a day to attend a Thursday night practice. During practice, we'll teach you the "how to's" of using the iPad and sliding "faders" up and down!